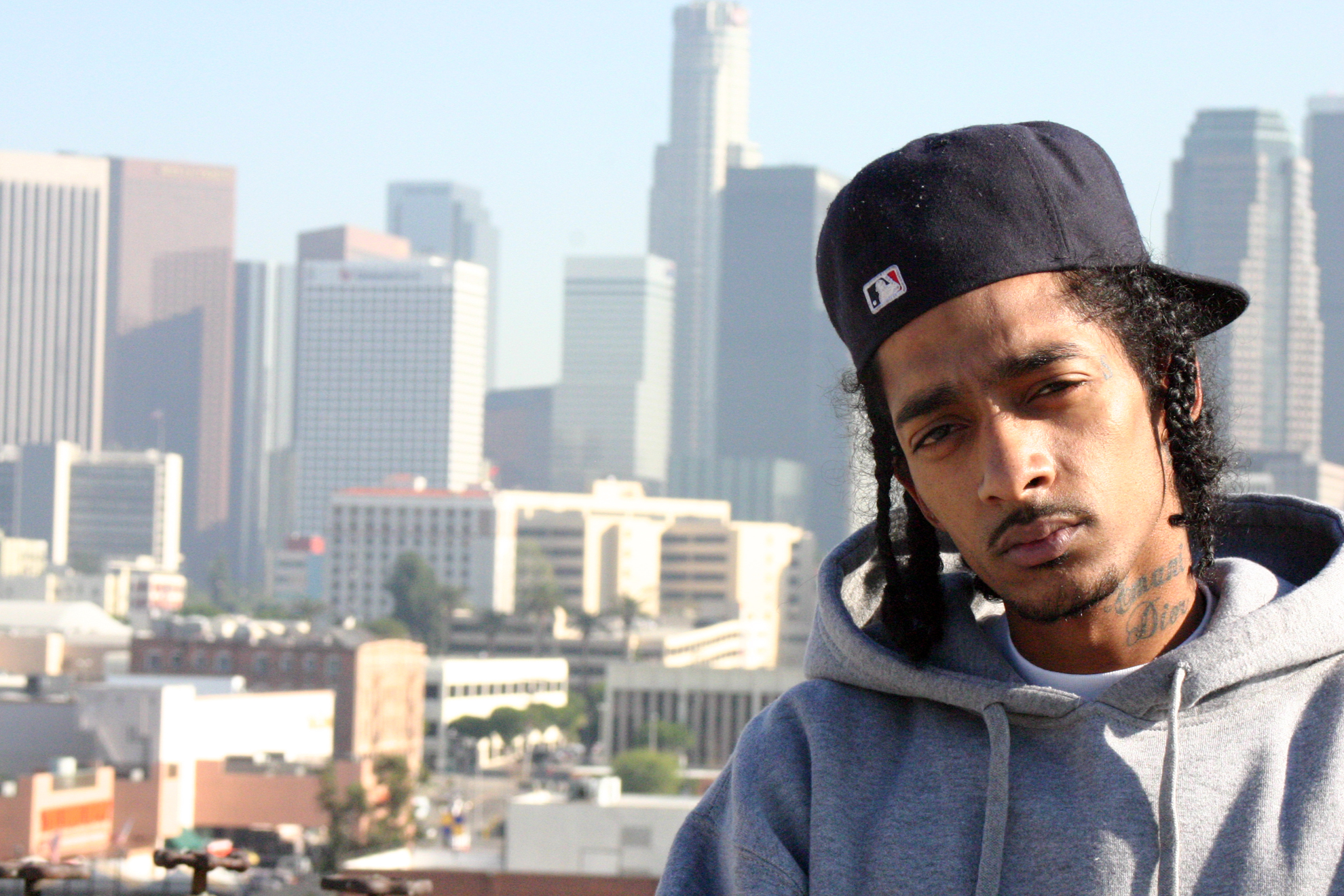 What's up everybody, i'm back with the long overdue chapter 2 of the "What Happened To..." series. If you haven't checked out the first one featuring
Asher Roth
, make sure you peep that. For the past couple of weeks i've been looking at Nipsey Hussle because he is exactly the kind of person who is perfect for this series. He was a part of, in my opinion, the best XXL Freshmen class back in 2010. Just look at some of the names on that list. Wiz Khalifa, Big Sean, J Cole, Freddie Gibbs, Jay Rock. That's a stacked lists even though they put OJ Da Juiceman on there who had the sorriest i don't even know what you call it in the history of humanity
opening their mouth
. After everyone got sick of Game, we all wanted to find the next flag bearer for LA and the Westcoast as a whole. This is pretty amazing actually considering there was this void of legit LA rappers just 5 years ago and look at what we have now. TDE, Casey Veggies, Dom Kennedy, and even Odd Future are all doing their thing in putting the spotlight back on Hollywood. Well Nipsey was the first of these rappers that was destined to bring LA rap back from the ashes. He had both a throwback look and throwback style in terms of subject matter. He spoke about the real shit in his life, which was gangbangin. Nipsey was very lazily compared to Snoop Dogg because they look alike, have the same hair, and were both crips. So what went wrong for Mr. Hussle? He had the buzz in the streets, the street cred, and the rhymes to back it up in an area that was starved for a new rap star. He even had a deal with Epic Records and a single aimed for the radio. So with everything seemingly in his favor, what in the world happened to Yung Nipsino?
I'm cheating right here because i'm going to start with the Nipsey Hussle projects that actually got him the buzz even though i didn't peep them. In the span of one year from 2008-2009, Nipsey released his mixtape trilogy,
Bullets Ain't Got No Names
. His biggest hit from that trilogy was no doubt the certified banger
Hussle In The House
. I'm basing his BAGNN series off of this song and i could see why he got the buzz that he got. He was talking about the girls, guns, drugs, gangbangin but he had a mic presence and a charisma that set him apart from his peers. He was also able to sprinkle some introspection in there to let listeners know he wasn't just some ignorant ass Crip. He even stated in interviews that he took and passed college courses with good grades so he wanted to show that a dude can be about that life and at the same time possess book smarts.
Off the success of his BAGNN trilogy, yung Nipsino was able to score a record deal with Epic Records and the anticipation for his proper debut studio album, which would be titled
South Central State of Mind
, started. In the summer of 2010 he released a single for his debut with Lloyd called
Feelin Myself
. I was actually very surprised to not hear more of this song on the radio. The hook with Lloyd was very catchy and fit in well with the swag movement that was taking place during the time. It had that crossover sound but Nipsey didn't turn into some softee on his verses. He kept saying what he had always been saying but in a PG-13 version which is what you need to do if you're a street rapper trying to make it on the radio. According to wikipedia, the highest position that the song reached was #93 on the Billboard Hot 100 Hip-Hop/r&b songs. I don't know what happened when looking back on the song because that was as radio as you can get with Nipsey and like i said earlier, i thought it did a great job of blending his street appeal and his crossover potential. Mind you this is all after Nipsey landed on the XXL Freshmen cover that spring so his buzz was at an all time high. Maybe there were some politics involved or maybe Epic didn't feel like there was another single on the album or whatever but after that song was released, the company kept delaying the album. And Nipsey being the G that he is was not going to wait for something to happen so him and Epic split up and Nipsey started his own label, All Money In.
So after leaving Epic, Nipsey Hussle released
The Marathon
in December 2010. This was actually the first time I listened to Nipsey and to say i was impressed was an understatement. It immediately became my favorite project and
Love
shot to the top of my Top 25 Most Played in itunes. On the project, he seemed to be less aggressive in his delivery from Hussle In the House and Feelin Myself yet he kept the same hunger. It actually seemed like he was more hungry just because he wanted to show all the record labels that he could in fact make it independently and on his own terms. Nipsey had a vision for how his career was going to go and compromising with a label would only get in the way of that vision.
The Marathon
felt like Nipsey was telling us his dream one track at a time. He was on his grind 25/8 because he knows he has to work that much harder without the support of a major label. The project was perfect timing because he was just on the XXL cover 8 months earlier getting declared an up and comer and he was just released from his contract at Epic so this was his platform to say through his music that 1) the hype was justified and 2) he can do this music thing on his own. I don't feel that Nipsey so much has any hard feeling towards Epic or any record company for that matter but he more so wanted to do things his way. What
The Marathon
did was prove that Nipsey can indeed make great music and keep it authentic. You knew he was still a street dude but tracks like
Keys To The City
showed he had the potential to make it on the radio and become LA's next big star. Mind you this is all happening right when Kendrick, TDE, and all there LA cats were starting to get more buzz but the crown for LA was still there for the taking. It looked like he was on verge of something big.
It did not go as planned. The reception to
The Marathon
sadly was not as widely received as he hoped or fans hoped. Don't get it twisted though, Nipsey was still making money because his fans are devoted and buy his merchandise which helps when you're an artist and are only putting out free material. You gotta make your money somehow. It seemed like his fans that went most crazy were overseas so Nipsey was doing what all independent rappers are doing nowadays which is touring and selling merch. His next release, i felt, would set the bar for the rest of Nipsey's career. Is he going to be just some underground dude that is raw yet his fan base will only consist of those devoted or is he going to make it big by doing his own thing and setting up a new formula for success? But before i talk about his next project, he released a track with YG and Tyga...
Bitches Ain't Shit
, remaking the Dre and Snoop
classic
from back in the day. Even though Nipsey had just released
The Marathon
a few months earlier, this track refreshed everyone's memory about who Nipsey was. He was becoming a well rounded artist but Nip was also let us know he could get mad ignorant on a track and that is why the streets loved him. He was bangin in the streets like so many of the youth but he saw an outlet through music and decided to go for it. At the same time he never forgot his roots.
Nipsey came back in the fall of 2011 to release the follow up to
The Marathon
called
The Marathon Continues
. I don't know if he had announced it but this Marathon theme was obviously becoming a series and i was assuming he was going to make it into a trilogy since that is what he did with BAGNN and plus that seems like the thing to do in rap. With it being the second part of the series, the project is about Yung Nipsino enjoying some of the spoils of his success. He hasn't quite made it yet but he was way ahead of where he was when he released
The Marathon
and light years ahead of where he was with the BAGNN trilogy. Judging by how TMC went, i'm sure that means the third installment of the trilogy will be a look back on everything and be his "finally made it album" but we'll just have to wait and see. TMC had some good tracks but i still definitely preferred
The Marathon
a lot more than this one. The sequel is almost never as good as the original in most cases and in my opinion this is what happened here.
Nipsey's next release would be 2012's
TMC: The X-Tra Laps
but that was just some throwaway tracks that couldn't make an alright mixtape so i wasn't going to bother checking them out. He still had some buzz and the fact that he was still independent meant he was still a free agent. No matter how independent an artist is, if the money and the situation are right, they would jump at the chance to sign with a major. This almost happened after there were reports of Nipsey signing to Rick Ross's MMG label. I actually think that out of all the labels, MMG would have been the best fit for him, even moreso than his hometown's TDE. But the deal feel through, although there were no hard feeling on either side, after Nipsey and the parent company, Atlantic, couldn't come to an agreement. I think it was something over Nipsey not having the control he wanted over his material and since Atlantic is a major label, they would never let anything like artist creative control happen. So Nipsey said thanks but no thanks to Officer Ricky and went back on his grind.
His next project was supposed to be
TM3: Victory Lap
making it the third project in the trilogy and making my prediction of it being his "finally made it album" look like it was coming to fruition. But he decided that he was going to make it his debut studio album which i wasn't mad about at all. I guess you could compare it to Big Sean's
Finally Famous
series being that Finally Famous was his mixtape series coming up and then he named his debut
Finally Famous
after putting work in to become famous (he put in work whether or not you like his music). So what Nipsey is trying to say is that his Victory Lap of making it in the music business will be when he finally can release his studio album. But he had not released any new material for almost two years and Nipsey had stated in interviews that his fans were hungry for new stuff so he would give a "preview" of
Victory Lap
with the release of
Crenshaw
. You know, the mixtape of tracks that weren't good enough to make it on his official album that he was selling for $100. I still can't believe how he sold all the $100 physical copies and made $100,000. Another thing i can't believe is how in the world did Nipsey release a 2 disc Greatest Hits album but i digress. Jay-z gets a huge assist since he bought 100 of them but Nipey still made $90,000 from all non Jay-Z purchases. This might be a template for other artists to make more money. Don't you think Lil Wayne or Drake could do this as well now and we know how devoted their fans are. Nipsey selling and being successful at selling his stuff for $100 showed not only how devoted his fans are to his music but the connection he has with them so for that he must be applauded.
I'll be honest when an artist puts throwaway tracks on a mixtape for us to listen to, i tend to give it a throwaway listen just because i'm a hater like that. But i took
Crenshaw
with a different approach because it was a preview of his debut album. Plus it was the first new material he released in two years so i was interested to see where he had gone since TMC. Nipsey had said that when he selected these tracks for the tape it sounded very much like the vibe one would get when cruising down Crenshaw which is why he gave it that title. As a kid from San Francisco i can say that i have never been cruising down Crenshaw but from the mixtape i can picture it being a slow paced relaxed vibe. The image i get is people driving with the tops down and the trunk rattling, likely with a cigarillo in hand. The two tracks i feel exemplify the tape the best are
Summertime In That Cutlass
and
Face The World
, the latter of which was produced by 9th Wonder. Real recognize real. Speaking of 9th and Nipsey collaborating, is it just me or do they need to do more shit together. That sounded tight. I don't know if that is great chemistry between the two or if Nipsey really sounds that good on those soulful beats or if 9th just has those kinds of bars on the boards but the bottom line is they need to feed us more material. I will buy that in a second. I kind of hated on
Crenshaw
the first time i heard it but the more i listened to it, it grew on me. Very impressive for a throwaway collection and it has me anticipating that
Victory Lap
album. He has no label to delay him so hopefully he gets that out by the end of the year or sometime in January. Come on Nip, we been waiting on that album.
So there you have it. If you've been wondering what Nipsey has been up to these last several years i hope this helped. His career has been delayed by labels not allowing him to achieve the vision Nipsey saw for himself. So he took it upon himself to put his vision out there independently. No one can tell an artist how their work should be. Nipsey knows it best what he wants from his music career and the white guys at Epic and Atlantic who run the label have no idea what Nipsey wants to do. They expect all artists and ESPECIALLY rap artists to just fall in line and when Nipsey didn't do so, they kept delaying his album until his buzz disappeared. We all want to see Neighborhood Nip win so if Victory Lap is worth the money go cop it (unless it's $100 then he could go fuck himself). Keep doing your thing Nip and release that fire. Peace.
p.s i finally updated the Weekly Page so check out what i've been listening to this past week.
50 Cent- If I Can't
DMX- What's My Name