With the NFL empire coming back into our lives for real in a few weeks, i figure i do part one of the NFL season preview. Today I'll let you guys see who i think the best players at each position are. Pretty self explanatory so here we go.
Also, if you click on the names there will be links to their highlights.
And you guys gotta get adblocker so you don't have to sit through those commercials on youtube.
OFFENSE
QUARTERBACK
aka the most important position in all of team sports
Seriously on a team of 53 players, an injury to the starting quarterback will have you starting Joe Webb in the playoffs.
1.
Tom Brady
2.
Peyton Manning
3.
Aaron Rodgers
4.
Drew Brees
These four guys don't need any explanation as to why they are in a class of their own. Honestly they could be shuffled in any order and no one would be mad. So i'm going to focus on the guys in that next tier of quarterbacks who are on the cusp of eliteness.
Second Tier
Joe Flacco
We'll start off with the best gambler in the NFL. I'm not talking about on the field Tony Romo, Brett
this dude is worth $120 mil
Favre gambler. I'm talking about actual putting money on himself and he won gambler. If you had said on January 1, 2013 that Joe Flacco would receive a $120.6 million contract then you should be making money telling fortunes because no one saw that coming. What a difference a month makes. En route to leading one of the more impressive Super Bowl runs in recent memory, Flacco earned himself the richest contract ever at the time. He rejected a deal from the Ravens the year before betting that he would make more money by waiting a year and he kind of was right. he tore through the three best teams in the playoffs while outplaying Tom Brady in the conference championship for the second straight year. He was unstoppable in the first half of the Super Bowl against the best defense and was smart enough to keep throwing to Anquan Boldin in the second half. If he can translate the consistency he showed in the playoffs throughout the regular season no one is going to be complaining about that contract.
shout out to AJ Jenkins
Colin Kaepernick
I can't think of anyone since i started watching football that played so good so quickly than my man Kaep. Hard to believe he only has 10 starts to his name. This is going to be a huge year for Kaep since it is his first season as a starter and coaches now have had a full off season to prepare for the best "new-breed" quarterback (one that can equally devastate the opposition on the ground or through the air).
He has all the physical tools to be the best quarterback, and from reports it sounds like he has the proper mental attributes and intangibles to become the seemingly perfect QB. The main thing he needs to work on is getting his offense to the line quicker so they don't have to burn timeouts because he's making checks at the line. It's way too frustrating to burn timeouts because the playclock is about to his zero. It also probably cost them the game winning touchdown that would have given them the Lombardi trophy. Also he needs to work on putting more touch on his passes. He has a bazooka attached to his right shoulder and needs to learn how to control it. According to reports he has looked real sharp in training camp and in his two series that he has played so far in the preseason. Just please don't get hurt because the 49ers just signed Seneca Wallace to compete for the backup QB job which tells you all you need to know about Colt McCoy and Scott Tolzein. And if you don't know what that means, it means that McCoy and Tolzein suck.
Eli Manning
Eli is a two time Super Bowl MVP and is a part of the NFL's royal family yet seems to be overlooked all too often. If you need one game to win, Eli should be at the top of that list. I definitely would take him over his brother and with the way Brady has been befuddled in recent playoff games i would say Eli is no doubt on the conversation for most clutch QB in the game right now. Idk how he completed those passes to Tyree and Manningham in the Super Bowls but he found a way to get it done. My respect for him shot up 1000 levels after the conference championship game against the 49ers. He took a beating....i mean a
beating
yet he still found a way to win the game on the road. Much respect to Eli. Probably gets overlooked because the giants tend to take a few years off after winning Super Bowls.
tell me he doesn't look like a rapist
Ben Roethlisberger
First off if you like the Steelers, just know your QB is a rapist. That being said dude can win games. Tough motherfucker who went from being the QB that the Steelers asked to just not lose games to the guy that they could not lose on offense. It's pretty ironic how the Steelers are known as one of the best teams of the last decade yet an injury to Roethlisberger completely decimates the offense and an injury to Polamalu has the same effect on defense. Idk if that means those two guys really are the shit or the Steelers are overrated. Also another guy in contention for most clutch quarterback in recent years. Need a game to win and you want this rapist, i don't think anyone can argue against it. Only thing i don't like about him on the football field is he is a fake warrior. I'm not knocking his toughness in anyway though. If he is hurt and playing well he is running sprints to the endzone after touchdowns, doing backflips, and doing pole vaults on the sideline. However, if he is hurt and playing poorly, all of a sudden he is limping back to the sideline after yet another interception with his head down and tail between his legs. Idk if Leftwich and Charlie Batch are still on the team but i'll take Roethlisberger with two broken legs over those two.
Close to Entering Second Tier
Matt Ryan
Another dude who got a big contract this off season has a chance to make that jump this year. He finally got a playoff win this past year but immediately went back to his choking ways in the seond half of the championship game. I still have no idea how he dropped that snapped and then looked like a total bitch when Aldon Smith literally took the ball from him. He holds on to that ball and doesn't throw an earlier interception to Chris Culliver, the Falcons easily could have been the ones getting torn apart by Joe Flacco. He has always had weapons at his disposal and now with the emergence of Julio Jones as an elite playmaker (spoiler alert) Ryan

has everything he needs to succeed on offense and put up big numbers yet again.
Andrew L

uck
As goofy as Andrew Luck

looks

, the dude understands how to play the QB position. Yeah he threw a bunch of interceptions last year but i think he forgot he wasn't playing the University of Colorado anymore. Anyways, he did graduate with an engineering degree from Stanford meaning he is smart meaning he won't make those same mistakes again this year. He is underrated athletically seeing as he ran his forty in the 4.6 range yet no one thinks of him as someone who can beat you with his feet. And that's fine because he has no problem beating opponents

solely

with his ar

m.
He led the Colts who were without their head coach for most of the year to the playoffs a year after finishing with the worst record and pretty much with new players all across the board. I think he will end up being the best QB out of the 2012 class. And no RG3 didn't make the list. And i love me some Thrizzle but i just have a feeling he is going to be injury prone his whole career. His build and playing style can't take the punishment that comes with being a QB and not only that but he plays in one of the more brutal divisions int he league. I hope i'm wrong about that because he is

already one of the more
dynamic QB's the league has ever seen.
RUNNING BACK
1. Adrian Peterson
If you don't know why Peterson holds the top spot i assume you don't watch football so just click on his name to watch his highlights from last year while keeping in mind that he did all that less than a year after shredding his knee. Peterson is on such another level that

it's useless ranking the other running backs since they know they aren't number one.
Ray Rice
Before Joe Flacco turned into a one man wrecking crew in the playoffs, Ray Rice was considered the life and blood of the Ravens offense and for good reason. This stat is from a couple years ago but it shows the correlation of Ray Rice getting the ball and the Ravens winning. From 2010 into the midway point of 2011 the Ravens were 3-4 when way rice got less than 20 touches (touches=anytime Ray Rice had the ball in his hands) and were 13-2 when he had more than 20 touches. That is something that is not hard to see. If the Ravens give Ray Rice the ball a lot their chances of winning go up a lot. Now the emergence of Bernard Pierce has lightened the workload and Joe Flacco has proved he can win games for the team but in reality how many people can do
this
. The biggest knock on Rice
is
was that he was too short to be a featured running back which makes absolutely no sense to me because if you just look at how he is built, the dude is a truck. Now he may not be a Ford F-150 but a Ford Ranger is still a truck that can get the job done. Speaking of short running backs it brings me to the next guy.
Maurice Jones-Drew
You don't know how bad i feel for this kid. At least he tasted the playoffs early in his career with David Garrard leading the team. It is hard being a running back in the league when the opposition doesn't respect the quarterback and stacks the box (the defense puts man coverage on the receivers usually leaving 8-9 defenders within five yards of the line of scrimmage). It's not going to be any different this year for Pocket Hercules unless Blaine Gabbert can grow a pair and use his physical tools for the betterment of the team. He does have help though on his offense with Cecil Shorts III bursting onto the scene last year as a deep threat and with Justin Blackmon looking like he is figuring out how good he can be when he is sober. they still have Mercedes Lewis as a security blanket for whichever QB is under center and selected Luke Joeckel with the second overall pick int he NFL draft to protect said QB. Jones-Drew success depends entirely on how well his QB plays. If the QB is competent MJD will go back to having one of his signature years.
Lesean McCoy
One of the prototypes for the new type of running back in this day and age. He isn't the big bruiser like Jerome Bettis or Jamal Lewis and you won't see McCoy going up the middle 20 times a game. In fact idk if you'll even see him rush the ball 20 times. The Eagles just want to give McCoy the ball in space and let him do his thing.
He is one of the deadliest open field runners in the league with the way he can change directions in a moment's notice yet stay at full speed. I think Ike Taylor of the Steelers said it best, "McCoy could make Superman miss in a phone booth." He isn't that big of guy especially for a running back but he almost never takes huge shots because of how shifty he is as a runner. Although Mike Vick is faster than McCoy, he is still very fast. When defenders have angles on you and you can still outrun those angles, that deflates a defense like none other. In addition to being a gifted runner he is a threat as a receiver as well. That puts the defense in a bind because if he is going to receive a pass out of the backfield that means a linebacker will most likely have the task of stopping him and there aren't too many linebackers who can.
Jamaal Charles
Speaking of these smallish running backs who will absolutely kill you with speed, we have Jamaal Charles of the Kansas City Chiefs. Idk if he still holds the record but he at one point held the record for highest yards per carry average in NFL history with 5.8 ypc. That means everytime the Chiefs turn around and hand Charles the ball they pick up six yards. 1st & 10 suddenly becomes 2nd & 4. The funny thing is that he is not considered a power runner but is respected throughout the league for his toughness. As a smallish running back he is not afraid to go up the middle and lower the boom. Looking at his career stats i was very surprised he has only lost one year due to injury. I was certain he been banged up way more but 2011 was the only year Charles didn't play at least in 15 games. He might have had one of the quietest 1,500 yard seasons ever last year but playing for the team with the worst record will do that. Don't get it twisted, his calling card is speed and when he gets in the open field, no one is going to catch him from behind.
Chris Johnson
I may be wrong but Chris Johnson of the Titans was the first of these smallish running backs who relied on speed to make a name for themselves. I know Marshall Faulk did his thing back in the day but he was an outlier in a league full of bruisers. Johnson showed a small dude can be a featured back. It also helps to have 4.24 speed. and if you don't realize how fast that is, run 40 yards in a straight line and see what you are timed at. Chris Johnson would already be removing his gold fronts by the time you finish. The only problem i have with CJ is he needs to grow up and be a leader. Never has he put the blame on himself and blamed his O-line as the reason why he hasn't reached numbers close to his 2000 yard season in 2009. He didn't call them out hoping to motivate them, he squarely put the blame on them. If there is something you never do in team sports, blaming your teammates is right up there with stealing a teammates girlfriend or wife. You just don't do it. But with that being said, he is one of the more breathtaking players with the ball in his hands and grass full of green between him and the endzone.
Arian Foster
I hope this guy stays healthy and the injury bug doesn't get to him. I have no idea if he is a great running back or merely a product of the same zone blocking system that made Terrell Davis a borderline hall of famer and Orlandis Gary a 1000 yard rusher but Foster can't decide who coaches him. He simply does what he is told and he is told to run the ball and pick up yards which he has done to the average of 1,421 yards a year since becoming the full time starter back in 2010. The Texans have a high powered offense and we'll see how much Foster really means to the team if he is unable to go in a couple games. We'll find out if they could just plug another running back in there or if Foster really is that good.
Frank Gore
Here is a biased pick but who cares. Since coming into the league back in 05 Frank Gore has been the most consistent running back in the NFL. The only years he did not rush for 1000 yards was his rookie year when he backed up Kevin Barlow for some reason and 2010 when he had a broken hip. Other than that, 1000 yards every year. He is the niners all time leading rusher and if he doesn't already hold all the team's records for a running back he soon will. He has the respect of everyone in that locker room and come to think of it, no one in the league has ever had a bad thing to say about Frank. For someone who reportedly scored a 6 on the wonderlic test he is renowned for being one the smartest football players. The only thing Frank doesn't have is breakaway speed. You don't know how frustrating it is to see Frank running free in the open field only to be caught from behind but he has everything else. He's got some of the best vision, patience, he can lower the boom, has light feet for a big man, and can pass protect with the best of them. And while he was the 49ers only option on offense for several years he proved he could be a threat in the passing game as well. In my opinion he is the most underrated player of the last decade. Who would of thought that from all that talent on the Miami Hurricane teams of the early 2000's that Frank Gore would be the one having the best career. Hopefully fans around the league can look at Gore and realize what a special player he is.
Marshawn Lynch
Even though he is on the most annoying team in all of football i'm not ashamed to say i love the way Marshawn Lynch plays. Not only that but you could tell is from Oakland. You could take the kid out of Oakland but you can't take the Oakland out of the kid but i digress. Marshawn is the kind of running back that people envision running backs to be. He doesn't stop his feet, it usually takes half the defense to take him down, and he will run you over without second thought. Although i think it is inevitable his style of play will catch up to him let's hope it's not for another few years. I mean this
run
pretty much has defined him as a player. I still don't think that Tracy Porter has gotten his career back on track.
FULLBACKS
With the way offenses have been trending the last few years and the way the college game is full backs are becoming extinct which sucks. I'm not going to pretend like i know all the full backs in the league so i'll just say Bruce Miller and Vonta Leach are the best. No disrespect to the other
full backs in the league becuse they have the most thankless job in all of football. Yes more so than an offensive lineman. At least O linemen get PAID.
WIDE RECEIVERS
1. Larry Fitzgerald
If there was one pain in the side NFC West division opponent i would love to be on the 49ers it is no doubt Larry Fitzgerald. What the man has been able to accomplish in the desert is nothing short of remarkable. Aside from playing with an aging end of his career Kurt Warner, Fitzgerald has never had a competent QB throwing to him. The man is a true professional. At no point have there been any reports of Fitzgerald requesting a trade or dogging his teammates in all the years his talents have been forsaken to the southwest region of the country. Maybe it has something to do with the $120 million the Cardinals gave him but he still seems like he would have been a cool dude. When he finally was able to reach some success during postseason run up to Super Bowl 43, he made the most of it. He was the best player on the field for every game while setting records for most receptions, receiving yards, and receiving touchdowns in a single postseason. He was balling out of his mind. The greats rise to the occasion and Fitzgerald is no exception. He is every bit as physically imposing as the next guy on the list. Fitz can do it all. Line up in the slot, be a possession receiver, go down the sideline, catch in traffic, go up at get the ball at its highest point, and possesses the best set of hands in the League. If there is a checklist of all the things an NFL needs to do, not only can Fitzgerald check them all off but he can do every single one as well as anyone in the game.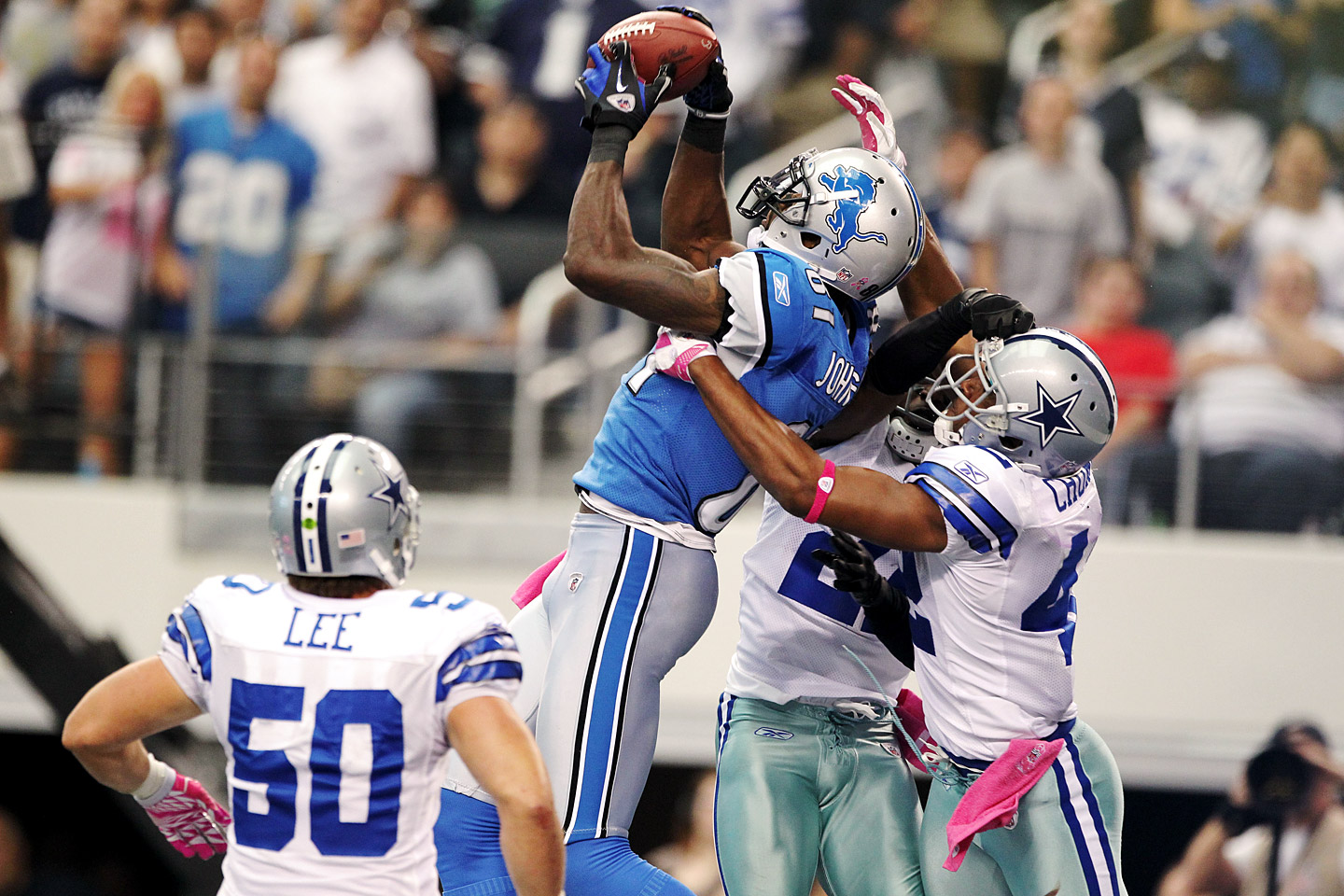 that's against triple coverage
2. Calvin Johnson
I really wanted to do a 1A and 1B with these two but that would feel like a copout. Instead i took the postseason success that Fitz had and decided that was the thing that put him over the hump ahead of Megatron. That's not a knock on Calvin at all because he definitely is not the reason the Lions have been in one playoff game since he arrived in 07. The Lions whole offense is based around this guy and for good reason. Seriously i don't think they call plays in Detroit. I think Matt Stafford asks Calvin as politely as he can to please get open and he'll throw it in the vicinity. He is almost always double teamed and even triple teamed at times yet he still set the record for most receiving yards in one season. Meaningless yards because they didn't translate to wins but impressive nonetheless when you look at the supporting cast. And remember when i said Larry Fitzgerald is every bit as imposing as Calvin...well i lied. He really looks like he was made out of a factory. There has never been anyone like him in the history of the NFL who is as big as he is and to have the production to match the body. It should not be possible for a human being to stand 6'5, weigh 240 pounds, run 40 yards in 4.35 seconds (in someone else's shoes), and to jump 3 and a half feet straight up into the air. It's not fair even more that human wants to actually be the best at his position and has a great pair of hands to catch anything coming near him. Hopefully the Lions get better because Calvin is someone i want to see when all eyes are on him come playoff time.
3. Andre Johnson
Ditto for what i said for Calvin Johnson and Larry Fitzgerald except he gets injured too much. Literally can do it all except prevent injuries.
Guys I Expect To Make the Jump Into Elite
4. Julio Jones
It's amazing what actually watching a game versus watching highlights can do to change your perception. When watching highlights you don't get the full picture of how dominant someone is. My perception of Julio Jones changed when i saw what he was able to do against the 49ers in the conference championship. He owned the first half. There was no stopping him. When the Falcons needed a first down they threw to Jones. When they needed what they thought was a backbreaking touchdown they threw to Julio. When they wanted to get out of blocks guns blazing, they threw to Julio. So pretty much anytime they needed something to happen they threw to Julio and he responded every time. It helps he has passing threats like Roddy White and Tony Gonzalez to prevent constant double teams but i think it is pretty clear now that Julio is the top dog of the Atlanta receiving corps coming into the season. And to think we haven't even seen the best of Julio yet. The rule of thumb is that receivers don't really blossom into the player they become until the third year and lo and behold, 2013 will be Julio's third year. I'm expecting him to make that leap into the elite category soon.
5. AJ Green
Right behind Julio is the man picked two spots ahead of him at the 2011 NFL Draft. Idk about anyone else but seeing highlights of AJ Green is like watching Randy Moss in his prime. Andy Dalton just throws it up down the sideline and waits for AJ to pluck it out of the sky for yet another catch. I'm not knocking Dalton at all but i think we could all say AJ is the one making Dalton look good versus the other way around. His peers around the league already revere this kid who is only going into his third year. That says it all right there. You have super bowl champions, multiple time bowlers, and veterans who have been around the league long enough to know what a special player looks like speak in awe of his talents. The only thing idk about him is i haven't really seen him go over the middle but i am completely being ignorant considering i have yet to watch a Bengal game while he has been on the team. Even if he doesn't go over the middle he is built to fly up the sideline and get the ball which he has proven to be very adept at.
6. Dez Bryant
When Dez was falling in the draft you don't know how bad i wanted the 49ers to take him and team him up with Crabtree and Davis and Gore to form with one of the most potent offenses in the NFL. That shows why i'm not a GM considering that the 49ers found themselves two of the best at their position in Anthony Davis and Mike Iupati but Dez is special nonetheless. Although he can be a knucklehead at times the talent outshines that...for now. I think eventually he is going to be a Terrell Owens type kind of guy who has the potential to tear locker rooms apart so let's enjoy him while he's young. He really broke out last year giving the Cowboys a legit threat at the receiver position so they don't have to keep throwing curls to Jason Witten. He is a physically imposing MAN on the field who does not shy away from contact. He can make all the catches and knows what to do when the ball is in his hands. He seemed to shake the incinsistency bug a bit last year so we'll see if he carries it into this year. If he can string together the kind of games his potential allows for then he will make the jump into the the Fitz/Calvin category.
Receivers Destined to Be Very Good but not Elite
Michael Crabtree
I still think he has the potential to jump into the elite category especially after what he showed when Kaep took over at QB but i fear the Achilles injury will prevent him from ever reaching that potential.
Stevie Johnson
A seventh round pick with no elite talents except route running has somehow maximized his physical abilities and combined it with good hands and intellect to become a very reliable number 1 receiver. Also, showed loyalty to the team that drafted him by re-signing with them despite being able to sign anywhere.
Hakeem Nicks
Unfortunately the injury bug looks like it will haunt him. A real shame because he seemingly has all the tools to be a great receiver and has displayed those tools when healthy.
Roddy White
The two time high school state wrestling champion took a while to get his career rolling but once he did, he has not looked back.
Steve Smith
It's a shame it took him this long to team up with a competent quarterback, no disrespect to Jake Delhomme. The things he can do in this league despite standing 5'9...ultimate respect.
Anquan Boldin
One of the more appreciated and underrated players since he stepped into the league. The old man can still turn it on when necessary.
Marques Colston
I want to see what he could do without Drew Brees but we may never see that. I think Drew Brees made Marques into the player he is today.
TIGHT END
1. Jason Witten
Production wins out ultimately. Jason Witten is Mr. Consistency. He gives the Cowboys anywhere from 80-100 catches and at least 900 yards a year. Witten is Tony Romo's security blanket which is weird because Romo still finds a way to fuck the game up. The classic too big for defensive backs and too fast for linebackers kind of tight end who knows how to use use body to shield defenders and combines it with a nice pair of hands. If you take him off of the Cowboys, then you have Romo forcing the ball to Dez which inevitably lead to interceptions which lead to Dez yelling at Romo which leads to a free for all in the Cowbiys locker room. So when it comes down to it, Jason Witten is the reason the Cowboys can function as a team.
2. Tony Gonzalez
Gonzalez revolutionized the tight end position. Although Kellen Winslow and Mike Ditka back in the day were some of the best receivers during their time, Gonzalez turned the position into an art. He is probably the most athletic tight end to grace a football field. He combines speed, hands, route running, body control, and using his body better than any tight end to play the game. Even his old ass kept making life hard on Patrick Willis and NaVorro Bowman back in January. Teams were forced to game plan defenses that would specifically stop Tony. He made it so the tight end was not seen as a third or fourth option on a play but rather he was the one QB's wanted to get the ball to. I don't see any reason to not expect Gonzalez to put up more of the same numbers in what appears to be his final year.
3. Vernon Davis
Vernon can be one of the more frustrating players to watch on a week in week out basis. We all know he is a freak athlete but his regular season production has not been there save for a couple years. Last year he did nothing really of sort until the playoffs rolled around which is cool because we know he is a guy who steps his game up as the lights shine brighter. That makes it even more frustrating that he can't put those numbers up over a 16 game regular season. But as long as he helps the team get to the postseason we know he will show up. Another frustrating part about his game is that he dances way to much for someone who should be a runaway freight train with the ball in his hands. He is 250 and runs a 4.3 but is always trying to go around and juke people. And if you watch Vernon he is not the type of athlete to make people miss. Idk when it happened but i remember early in his career one person was never able to bring him down and now it seems like it happens way too often. If he is trying to save his body i understand but it can get super annoying. And i alluded to it earlier but Vernon is not a fluid athlete. He is big and fast but looks very awkward when changing direction and when catching the ball. He catches the ball with his body too much for my liking but like i said earlier, he produces in the big games. And though it seems like i am bashing on Vernon, i am not. It just gets frustrating seeing the inconsistency. He's a dude that looks like tarzan and plays like tarzan as well. If you have a chance to watch him run block it is a thing of beauty. As terrible of a head coach that Mike Singletary was, i will be forever grateful for the way he turned Vernon's career around. Before Sing became the coach there is no way Vernon would have turned into the absolute beast of a run blocker and consummate team player that he is today which is something he openly admits. I do think he will have a big year because he has no other choice but to pick up the slack left by Crabtree's injury and Vernon is definitely more than up to the task. I just know that whatever Vernon is doing he will be giving it 100 percent and with a smile on his face.
4. Rob Gronkowski
The man, the myth, the legend, every frat boy's hero is the best tight end when healthy except for the fact he has a tendency to not be healthy and this issue goes back to his college days. But when he is healthy there might not be a more unstoppable force then the Gronk. The classic too big for defensive backs and too fast for linebackers kind of tight end is special because he is not only too fast for linebackers but too big as well. So a double team pretty much has to be committed to stopping Gronk every time he is on the field. He has the record for most touchdowns in a season for a tight end and i have to fact check it but i think he also has the most receiving yards in a season for the position as well. I don't think there is anyone in the League who enjoys being the lifestyle that comes with being an NFL player more so than Gronk. Something tells me he would act the same off the field even if he was a long snapper.
5. Jimmy Graham
What a work of art Drew Brees and the New Orleans Saints coaches did with this kid. Before entering the NFL, Graham's entire football career stat line read like this: 17 catches for 213 yards and 5 touchdowns. He didn't have much production in his life because he was busy playing basketball at the Division 1 level. You can say he progressed pretty fast because in his second year of professional football, third year playing football overall, he produced 99 catches for 1,310 yards and 11 touchdowns and earned a spot on the All Pro team. Not too bad for a football novice. It just gets you thinking how many Jimmy Graham's are out there playing basketball in Europe right now *cough Rob Jones cough*. If Tony Gonzalez and Antonio Gates didn't already set the precedent for college basketball tweener power forwards having an alternate career path then hopefully Jimmy Graham has.
Other Tight Ends of Note
Antonio Gates
Antonio Gates was the most productive tight end of the last decade but injuries seem to have caught up to him. I just mentioned how he and Tony were the forefathers of college power forwards coming into the league and dominating as tight ends and their play has revolutionized the game. Tight Ends are usually guaranteed to never be double teamed and Gates will take advantage of single coverage every time. Get healthy big man.
Delanie Walker
As much as i like 49ers rookie Vance McDonald i feel the loss of Delanie Walker to the Tennessee Titans will prove to be more costly than what people think. The reason why the 49ers were able to employ so many two tight end sets was because of the many talent of Delanie. It's ironic that his worst attributes are his hands seeing that he actually is a converted wide receiver. It still befuddles me how he can drop so many open balls yet make catches while three guys are draped on him. I hope the Titans use him correctly and take advantage of his skill set because his value to the 49ers was that he was able to do so many things well. He could block as a traditional tight end, do trap blocks on the interior,
block as a leading full back
, split out wide, line up in the backfield, make plays with the ball in his hands, and straight
lay people out
on kickoff. Definitely one of my favorite players that i had watched in recent years.
Jared Cook
Don't sleep on the Rams. I keep reading how Jared Cook is going to do big things in St. Louis after never reaching his potential in Tennessee. Big target for Sam Bradford.
Dennis Pitta
Shout out to Dennis Pitta who was really coming into his own and looked like he could be the Ravens number one receiving option before going down with a season ending injury.
OFFENSIVE LINE
I'm not even going to pretend like i know which individual linemen are the best and if you can tell me that you're full of shit. That being said i'm just going to say the
49ers
have the best o line in football. Joe Staley is widely considered one of the elite left tackles in the game which still leaves me flabbergasted because idk when that transformation took place. Mike Iupati looks like he was born to play guard in the NFL and is living up to that prophecy. Johnathan Goodwin is the leader of the line and makes sure everyone is on the same page. Anthony Boone has a rhino named after him. And Anthony Davis just looks like he wants to hurt people.
Part two featuring the defensive side of the ball coming soon.