Since Lil Wayne is probably the only rapper who has ever had beef with the NBA it got me thinking how similar rappers and NBA athletes actually are. Then i remembered i kind of read something like this before. First of all i'm giving credit where its due and saying i got the idea for this entry from
bleacherreport
. They did another slideshow like that but i couldn't find it. This entry will pretty much be self explanatory. The only thing i'm going to say is that only current players and "relevant" rappers will be used for this. So let's
Michael Buffer
this shit. Sorry Bruce
Rajon Rondo/Childish Gambino
The key thing that pits these two together is versatility. Rajon can get a triple double any night he seemingly wants to, controls the game for Boston offensively and sets the tone on the perimeter defensively. Childish Gambino, or Donald Glover, wrote for 30 Rock, stars on Community, does stand up, and from what i hear can absolutely rock a crowd. Rock a crowd to the point that Gza just stops doing his set because Gambino's is too crazy. Rondo does have his deficiencies like not being a great scorer so he is not called upon lead Boston in that aspect. While Donald Glover is a good actor he is not called upon to be the lead actor. He may lead an episode every now and then
but that's it. Two versatility guys who are best when called on to support.
Chris Bosh/Rick Ross
Maybe a little puzzling at first but give me a second. Both call Miami their home and both have been accused of being fake with Officer Ricky continually speaking of his days as a drug kingpin which no one believes and Bosh being Miami's center while everyone around the league unanimously credit him as being a fake tough guy. This leads to people taking figurative shots at Bosh while someone literally took shots at Rozay, although 50 believes it was staged. They both have their signature looks. Ross is disgustingly fat, has a beard, grunts UGGH and WHOOOH, and i'm pretty sure no one has ever seen his eyes. Bosh looks like a dinosaur, ostrich or whatever other awkward animal you can think of, has his signature facial expressions, and pretty much looks like a bitch. Haters gunna hate tho and Ross is going to keep putting out the best selling albums while putting on for his super team MMG. Bosh is going to keep putting up solid numbers to the tune of about 18 and 8 everynight and does what it takes for his super team to survive.
Drake/Pau Gasol
This was just too easy. Not only are both regarded as two of the softest in the respective professions, foreigners doing it big in America but they both resemble animals. Drake has a rat face look going for him while Pau has that llama look going for him, shout out to Peru. Both were swimming in obscurity until the biggest people took them in. Lil Wayne took in Drake for Young Money, and to write for him, while the Lakers traded
Kwame Brown
for him. Turned out to be wins for both as Drake had two best selling albums and Pau helped Kobe and friends get two more rings. With Pau seemingly on the decline we can only hope the gods make it right and take Wheelchair Jimmy down with him.
Chris Brown/Dwight Howard
These two both started off their careers as two youngsters who everyone seemed to love and do no wrong. Breezy had the dance moves and could sing karaoke like no other. Then Breezy proceeded to beat Rihanna to a pulp and come off as a douche that throws tantrums (literally throws child temper tantrums) when someone would ask him about it. I get that he gets annoyed whenever those questions come up but are we supposed to feel bad for him. I don't know what Rihanna did to set him off but c'mon dude, you can't expect to beat America's sweetheart and not face any questions about it like it never happened. Now he is public enemy number 1 and other than stupid ass girls who say "Chris Brown can beat me any day" i havn't met anyone who respect him as a person. Hard to respect a boy who takes dick pics bleaches his hair blonde and throws tantrums when someone asks him a question he doesn't want to answer, ever think of saying "No Comment." Dwight was the God fearing teenage phenom who could jump out of the gym and was a physical specimen. He had his run in Orlando then proceeded to become a teenage girl when he wouldn't give an answer to the team that was built around and for him. He said he would stay then demand a trade then retrack any statements and eventually get a very good coach in Stan Van Gundy fired. He finally gets his wish of being traded to LA and that isn't good enough for him. He says he will stay in LA then there are reports of him wanting to go to Brooklyn and now his back hurts and cries if someone asks him how he is doing. Oh and that wholesome God image he came in with turned out to be phony because he has knocked up like three different women and proceeded to leave the children fatherless so yeah. Two kids who came into the game with all love then proceeded to never grow up and stay children as they are now amongst the most hated in their profession. Goes to show how the media can puff up a celebrity's ego to the point of entitlement which disallows the chance for growth.
Rasheed Wallace/ E-40
belt says Roscoe lol
Here we have two OG's in the game who find a way
to keep thriving in a young man's game. They both were not afraid to do things their own way. Since they are different, people either love or hate them but i would like to think fans of basketball and hip hop have respect for them no matter whether you love or hate them. Rasheed has been doing his thing since his days at North Carolina and keeps it real by always rocking the Air Force 1's on the court. I feel like he is not respected for being as smart of a player as he actually is. Has a solid inside out game while realizing later in his career he can play longer by shooting the 3 which he was able to do effectively. Rasheed doesn't care what anyone thinks because he is just going to play the game the only way he knows how and the man could pick up T's like no other. E-40 has been hustling since day one and got his start in the Bay Area rap group the Click, shout out B-Legit and Suga-T. A self made music man whose Sick Wid It Records label has enabled 40 Fonzarelli to put out music on his own terms. He doesn't get his respect by how much influence he has blessed the game with and that is just in terms of slang. 40 is also notable for still working just as hard now as he was earlier in his career seeing as there aren't too many people who drop 3 albums in one day like the Ambassador of the Bay. Two OG's in the game who have loyal fans and would be very hard for someone else to be like them in the future.
Chauncey Billups/Bun B
Another OG comparison here with Chauncey and Bun B. Chauncey always seems to be the veteran that a team needs to not only help guide them to the playoffs but to help them make a deep run. Bun is that dude who gets called upon to lay down a verse and for the most part usually ends up with the best one. Chauncey has had his moments individually like being MVP of the 2004 Finals but for the most part being remembered as a team player who only provided positives and no one really has anything bad to say about him. He is best known for his run with the Pistons in the mid 2000's who had a great run of success in the East and has maintained a good career afterwards with Denver, New York, and now the Clippers. Bun is a legend in the rap game who is best known for his work teaming up with the late Pimp C, RIP Pimp C, as one half of UGK. He created his best work with Pimp but has stayed noteworthy laying down track stealing
guest verses
. It's not like Bun is a lost cause by himself as his third solo album Trill OG ended up getting a rare 5 mic rating from the Source. Two guys who go about their business and looking back on their careers you may be surprised on how much the two were able to accomplish.
A$AP Rocky/Jeremy Lin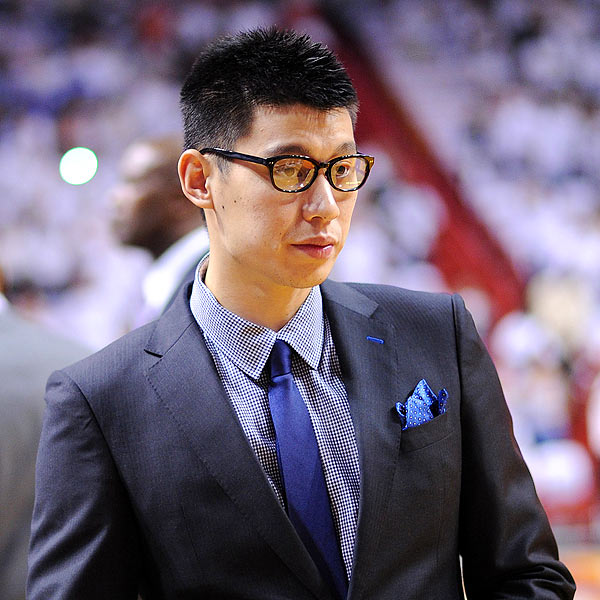 #1 Asian gangsta
Maybe a little puzzling comparison at first but let me explain. Both were guys who seemingly came out of nowhere in New York to dominate the landscape for a while. They are also unconventional stars who based on appearance wouldn't be the first people you think of as success stories. Rocky is a New York rapper but doesn't have a New York sound at all. On top of that he raps about being a pretty motherfucker and dresses like a gothic transvestite. So one wouldn't assume succes for him. But he dropped two videos for
Purple Swag
and
Peso
which he was then able to parlay into a $3 million deal, TYBG. He followed that up with Live.Love.ASAP which was very well received and dropped his album Long.Live.ASAP which debuted at number 1 i think despite being leaked a month early. Jeremy Lin is a Chinese dude from Palo Alto, went to Harvard, and blew up the basketball world last year during Linsanity. Now for anyone who has ever played chinese dudes in basketball they either suck like no other or are ballers and Mr Lin fit into that latter category. He came out of nowhere to get all the national buzz, his jersey sales skyrocketed, and inspired chinese kids all over america to finally have a chinese player they could claim as their own, sorry Yao and Yi Jianlin. He parlayed his two week success into a $25 million deal with Houston and has been doing a decent job for them this season. Anyone else think he should reunite with D'Antoni in LA or is that just me? Two guys coming out of nowhere and briefly dominating their fields before parlaying it into success while still doing their thing today.
Kobe/Eminem
These two i would have to say are undoubtedly the best of their generation. If it weren't for a guy named Jordan Kobe might even be in the discussion for GOAT. They have been around for a while starting out as understudies before taking over and consistently putting out great seasons/content over the last 15 years or so. Em had the underground hit Infinite which gave him a buzz but really took off when Dr. Dre took him under his wing and pointed him in the right direction. After a while Dre took the training wheels off and Em started to take control of his own career and took off to the point that he was in conversation of GOAT rapper. Sure he had his missteps like Relapse and Recovery but we all know that if Marshall were to drop something tomorrow everyone would go crazy trying to peep it. Kobe started off slow then rose to the unquestionable #2 man behind Shaq during their 3 peat. It was a couple more years before Kobe could grab the role of alpa male and he still has not relinquished that title. His resume speaks for itself and there has not been someone since Jordan who visibly hates to lose in any sport for that matter as much as Kobe. He has had his missteps as well like raping someone in Colorado and the Smush Parker years but once Phil Jackson came back aboard he used the end of his prime years to grab a couple more titles. If you were up against one rapper for a battle rap or one player to take the last shot today would anyone be confident if that opponent were Kobe or Em? i doubt it.
Lebron/Kanye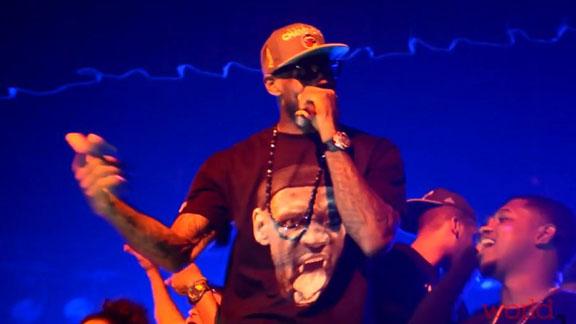 nice shirt of yourself
Right now Kanye is the reigning king of the hip hop world while Lebron had one of they best years ever in basketball to claim the title of best player in the world today. Not only are they on top of the game but they can pretty much do anything they want in their respective professions. Kanye can rip a track that he made and wrote himself, do a concert justice, get people talking about him and seemingly keep his sanity knowing he going to be paying child support for Kim Kardashian's kid. Lebron can take over a game offensively with drives to the basket, being a facilitator and can lock down an opponents best player no matter the position, wassup derrick rose. Now they can't do everything perfectly with examples like kanye on a hook or Lebron shooting threes but them doing so is still a better option than most others. They are in the prime of their careers right now and everyone has an opinion on them whether is a douche or not or whether lebron is a douche or not. They both make everyone around them better but if you need someone to take over you know who to look to.
Metta World Peace/Lil B
The artists formerly known as Ron Artest and Brandon McCarthey are two guys living in their own world and have the rare distinction of having been
interviewed
by
Nardwuar.
Lil B lives that based like no one else can and Metta World Peace is just out there. Both have been part of some talented teams in the past with Ronnie part of a team with Reggie Miller, Jermaine O'Neal, Stephen Jackson, and Austin Croshere, shout out to Auburn Hills. Lil B was a member of the Based Boys better known as the Pack with Young L, Lil Uno, and Stunnaman. Both have made some questionable decisions in life such as Ron Artest jumping into the stands to beat the shit out of the wrong guy
and Lil B calling his album I'm Gay. Shit both have even crossed over into each others profession. Ron has his own record label and has released one album that I know of, Queensbridge projects stays breeding legends pretty much, and Lil B unsuccessfully trying out for the Golden State Warriors D League team where he could have teamed up with Kent Bazemore to form the most entertaining backcourt ever. Each has their fans who love them because they do what they do without caring about others' opinions about them and for that i always have respect for people like that.
Waka Flocka Flame/Gerald Wallace
The thing that sticks out about these two is the energy these two bring to the table. Flocka can't seem to not shout on any track he is on including one that sounded like it was supposed to be a
slow jam
before Waka came in the room. Gerald Wallace can't seem to not go 100 percent every minute he is on the court and has paid for it by virtue of never playing a full season in his career. Flocka has had mainstream success like having a number one hit with
No Hands
but his real niche is in the underground mixtape game. He has about 11 official tapes released in the last 3 and a half years and among those are some of the best named and great album covers of this generation, peep Lebron Flocka James and Duflocka Rant. Gerald Wallace not does have the flashy numbers but has been recognized as an All Star back in 2010. His success comes with the "stats" that don't show up in the box score like hustle plays, diving for loose balls, being a shutdown defender, and going full speed at all times. A unique stat that did show up was for one year he averaged over two blocks and two steals a game which not many in history have done and even more noteworthy because Wallace is a swingman. They both know what they are good at and stick to their comfort zones. We know what we are getting if hear a Flocka project or watch Gerald play so you can never really be too frustrated with them.
Jay Electronica/Mike Vick
I know Vick doesn't play in the NBA but i thought this was the best athlete comparison. Both are some old dudes that are in danger of never living up to their potential. In Vick's case it is his combination of being injury prone and refusal to play smart when he is healthy. He needs to realize people will respect him more if he is willing to not take a hit rather than be the tough guy and fight for every yard. That's a good mentality for a running back but not a $100 million quarterback. Jay Elec needs to cut the bullshit and fucking drop his album already. I don't know if he was waiting for a sign from Allah or something but the longer we wait the more likely it is that the album is not going to be as good as we hope. He has shown a glimpse of what he can do with tracks like
Exhibit C
and
Eternal Sunshine
. Vick has shown us potential as a Quarterback with his great 2010 season but for some reason has not been able to be consistent. Time is running out for these two to make something out of their careers but if they can show us what we know they are capable of then we are in for a treat.
Kevin Durant/Kendrick Lamar
Here we have the two young guns who have been improving every year. Durant jumped onto the national radar by winning Player of the Year
as a Freshman at Texas and entered the NBA in 2007 where he has proceeded to win the last 3 scoring titles and looks to be on way to a fourth this year. If Lebron is the best player in the world then Durant is right at his heels trying to catch him. He is still only 24 years old and can still improve on his game to really take over the game. Already the best scorer in the league he can kill teams in multitude of ways with his handling, shooting, or drives to the bucket. Durant is as close to unguardable as there is and opponents can't stop him with their only way to defend him is to pray he has an off night. He has helped rebuild the former Seattle Supersonics into the juggernaut that is the Oklahoma City Thunder. On a team with players like Russell Westbrook and Serge Ibaka, KD is unquestionably the leader of the team. Kendrick has been buzzing underground for a few years and broke through this past year with his major label debut good kid mAAd city. The last several years though he has been putting quality projects wit the Kendrick Lamar EP, Overly Dedicated, and the critically acclaimed Section 80. Only 25 years old K-Dot is not recognized yet as the best MC in the game but if he keeps improving at the rate he has been there does not seem to be anyone else who will take his crown in a couple years. Much like Durant's team Kendrick's team is the talent laden Black Hippy. Although not necessarily the leader Kendrick is definitely the bar setter for Schoolboy Q, Ab Soul, and Jay Rock. These young guns are leading a new generation and are people that vets and youngins alike can be proud to see as the leaders.
The Roots/San Antonio Spurs
Two of the most respected entities of their professions these two groups pretty much set the bar for longevity and success in Hip Hop and the NBA. The funny thing is that the core has remained the same for so long. The Roots main men consist of Black Thought and ?uestlove and those two go back to their high school days way back in the 80's. Best believe once i get some cash i'm going to cop me some
?uest air forces
. The rest of the band has been a revolving door of role players with the most notable member to branch out and do his own thing has been Scott Storch. Every album The Legendary Roots Crew has been in the categories good to great and the best thing about them is their consistency and being able to sound fresh after every project for over 20 years. Now the Spurs run started off when Greg Popovich took over, drafted Tim Duncan (probably the most under appreciated Hall of Famer ever) and paired him up with the Admiral, shout out David Robinson. That core led them to two titles and after David Robinson Manu Ginobli and Tony Parker proceeded to supplement Duncan to give them a core Big Three which has been scary consistent over the past decade. Every year you can pencil them in for a top 3 seed in the west despite to always seemingly have a revolving door of role players but credit has to go to the Big 3 and Coach Pop for that. Both the Spurs and the Roots are going to continue to be great until they decide they do not want to and in the future their level of excellence i believe will be appreciated and the standard bearer for future teams and groups.
There you go for some food for thought. Actually pretty sick to me how careers of rappers and athletes mirror each other. Definitely going to do something like this again in the future but with other sports and musicians from other genres. Who knows who will be relevant in a year. peace
Shawty I'm Flexxin