With baseball season getting underway this past week i think it's a perfect time to drop another rapper-athlete comparison. I did one for the NBA a little while back which you can check
here
if you haven't already. There's way too many baseball players so it was hard limiting them to a select few. Also I used all different rappers so no repeats from the last article since there are so many damn rappers out too. Well whatever and here you go.
Bryce Harper/Schoolboy Q
I was actually surprised how much in common these guys's career are. They both had big years last year with Schoolboy releasing
Habit & Contradictions
to positive reviews and Bryce making the all star team at the age of 19 and concluding the year with a playoff berth and winning Rookie of the Year. They were both part of teams that ended the year on top seeing as Black Hippy had three very good/top notch releases and the Nationals finishing with the best record in the Majors last year. The talent of both teams are noteworthy too. In addition to Harper the Nationals have Stephen Strasburg, Gio Gonzalez, Jordan Zimmerman, Ryan Zimmerman, Jayson Werth, and Ian Desmond filling out the roster. In addition to Quincy Black Hippy boasts Ab Soul, Kendrick Lamar, and Jay Rock but you guys already know that. Both Q and Harper are set to have big years this year as well. Schoolboy's Oxymoron is set to be released later this year and already has a
single
out while Bryce is more comfortable in his second year in the majors and proceeded to smash 2 home runs on Opening Day. They both have their signature catchphrases with "Clown Question Bro" and "YAWK YAWK YAWK" that have people repeating them daily. Harper and Schoolboy are ready to break out this year and just need to clear that last hurdle in order to ascend into superstar mode.
Pablo Sandoval/Action Bronson
These guys are proving fat men still should not be messed with. With everyone being health conscious nowadays it is refreshing to see guys pushing 3 bills and still killing it. Rapping has long been accepting of fat people like Heavy D rip, Big Pun rip, Fat Joe rip to your career, and one of the all time greats Biggie rip. Bronsolinio has taken the fat man torch and is proving time and time again he is not someone to be fucked with on the mic. He dropped a project several months ago with legendary producer Alchemist to rave reviews and looks to be dropping another project with one of the hottest producers in the game right now in Harry Fraud. All his work the last couple of years led him to landing on the cover of
XXL
for their annual cover even though it was about a year late but at least he is getting his recognition. He has a loyal cult of fans which surely will get bigger because of the cover. I have yet to hear any criticisms of Bronson other than that he sounds like Ghostface Killah but shit he can't really do anything about how his voice sounds and listening to him more you can actually see the difference between the two stylistically. A hidden talent he has is that he is a
chef
so that explains why the man is hefty but it's all good, he is giving big kids everywhere a role model. Then we got my man and probably the most lovable fat man in baseball right now, the reigning World Series MVP Pablo Sandoval. Like Bronson, Pablo was loved by those that knew about him but it wasn't until his breakout post season that he finally got national love. Yeah he had been named to two all star teams but both times people questioned his selection and hated on him. He had to go deep 3 times on Game 1 to show that he is for real. Looking back in the history of the sport fans have always had soft spots for round guys like Babe Ruth, John Kruk, and former MVP Mo Vaughn and if you were good and fat, that combination makes you a legend. Pablo was a cult favorite and you can spot his fans wearing panda hats paying homage to the Kung Fu Panda and it looks like that cult will continue to grow as his popularity and waistline progresses. Criticism he has other than his weight is that he is a free swinger but that is who he is. Whose to say if he lays off pitches that he would actually be better. Part of his appeal is his ability to hit home runs off of fastballs thrown eye level so fuck it i hope he keeps swinging at curveballs that bounce before they reach the plate. He has a hidden talent too which is that he is a natural lefty making him ambidextrous so there's that. And people don't realize he is actually a versatile athlete. He came up through the minor league system as a catcher and hasn't spent a lot of time at third base which he is far from horrible at despite what people think and even has moonlighted at 1st. He is also elusive because the man can dodge a sexual assault case like only an athlete can. Action Bronson and Pablo are two fat guys not exactly at the top of their professions but are extremely solid and are much better options than the majority of their peers. The only criticisms people have for them is something they can't change and is also what makes them what they are so fuck a hater.
Brian Wilson/Kool Keith
Here we have two guys completely in their own world and have made their fame off of that left of centered-ness. As a matter of fact these might be the only two guys that understand each other since their brains operate on different wave lengths than the rest of us. Brian Wilson operates in his own world filled with
The Machine
,
beards
, and
sailor outfits
,
spandex tuxedos
, and
painted nails
. Meanwhile Kool Keith's world consists of
Dr. Octagon
(an alien gynecologist that time travels),
Dr. Doom
(a serial killer that killed Dr. Octagon), and
Black Elvis
so the two have created their own worlds in which they are the only members of. Kool Keith made his name first as a member of the legendary
Ultramagnetic MC's
before branching off into his solo career and many personas that he is best known for today. And before Wilson developed into the guy that he is, he was just another typical
frat boy
looking baseball player who was a major part in bringing the first world series to the city of San Francisco after over 50 years. I just like how these two completely march to the beat of their own drums and absolutely have no cares in the world about what anyone says because quite frankly not only are they a lot better at their profession than most of their peers but that weirdness about them separated them from the pack. They owe much of their popularity and success to their actions that are so
left field
in the back row of the bleachers beyond the left field fence. They can never be duplicated and if someone does try to copy it we will spot that from a mile away.
Alex Rodriguez/Joe Budden
At first I only had two reasons to compare A-Rod and Mr. T Shirt and Buttons, TYBG, which were the amount of criticisms they have taken over their respective careers and for their ability to bag hot females like
this
,
that
, and
her
for A-Rod while Joe Budden has his claim to fame with
this
,
that
, and
her
. They both are also some emotionally delicate guys for two successful grown men and have both never been known to take to critics well despite them being rich as hell. Another thing they have is both were individual talents who were making moves on their own but people rather just paid attention to other people. A-Rod at the height of his steroid using was smashing 50 homers a year and won the 2003 MVP for the last place Texas Rangers and it wasn't until he was traded to the Yankees that he was finally part of a super team where he did not have to put a whole squad on his back night in and night out and pressure was alleviated. He was able to win the 2007 MVP and was part of the 2009 World Series which was the only postseason that he did not make a fool out of himself. Joe Budden on the other hand made some noise in 2003 while on Def Jam with his single
Pump It Up
but after that his career kind of stalled. He was respected for his lyrical ability but again he was overlooked because why would anyone want to listen to him. It wasn't until he teamed up with Joell Ortiz, Royce Da 5'9, and Crooked I to form
Slaughterhouse
, who were eventually signed to Shady records, that Budden was relevant again and that super team of 4 lyricists were dudes no one wanted to mess with. And come to think of it i don't recall anyone calling out Slaughterhouse as a whole so if anyone has please let me know. We got two guys who proved themselves individually but it wasn't until they joined super teams that their talents were magnified, more so Budden than A-Rod, and found their greatest successes on and off the job once becoming part of those teams.
Derek Jeter/Jay-Z
Jeter and Jiggaman became household names around the same time and since then they have co-reigned as kings of New York with Jigga ruling the streets and Jeter reigning supreme over the sports fanatics. While Jay has been a Brooklynite his whole life, Jeter was born in New Jersey but grew up in
Kalamazoo
(skip to 13 secs)
but in all honestly the man is as New York as it gets. Jeter is not afraid of the big stage, raises his play as the stakes get higher, and also gets with the hottest women out there. Jay is up there in terms of being a straight up New Yorker. He grew up in Brooklyn selling crack, made it out through rapping (and his style is lyrical, dense, and paints pictures aka New York), married Beyonce, and bought the Nets and proceeded to move them to Brooklyn on some gangsta shit. The resumes speak for themselves with Jeter having 5 world series to his name including the 2000 series MVP and Jay has had every single one of his albums, both solo and collaborative, go platinum which is ridiculous for a hip hop artist seeing as most fans just pirate the shit. That's over 14 albums and most went multi-platinum. Those are some mind boggling numbers in todays music society. Well the two guys have earned themselves a lifetime pass of passes so they can pretty much do anything they want as long as it isn't anything too stupid and they will still be loved in New York no matter what.
Jason Heyward/J. Cole
Next up are two guys who were supposed to come in and be saviors of baseball and hip hop and their debuts left a lot to be desired. Jason Heyward burst onto the scene as a 20 year old back in 2010, smashing a home run in his first at bat setting the stage for a runner up finish for Rookie of the Year. His 2011 and 2012 season however fell short of the lofty expectations he set from his rookie year. He struggled to make the necessary counters to the pitchers making adjustments on him. For someone who probably never experienced failure in his athletic life before that was something hard for him to deal with so hopefully he does what he has to because according to reports he was looking good swinging the bat in spring training. Not only is he a threat at the plate but he has speed to which he used to steal over 20 bags last year so he is a power/speed threat offensively and in the field he uses that athleticism to his advantage in making some real nice plays defensively to go with his cannon of an arm. Heyward isn't off to a great start this year only hiting .143 so far but it's the first week so there shouldn't be too much worry plus the kid is only 23. In the rap game we have J. Cole who has been pegged as a savior of hip hop after releasing his mixtapes
The Come Up
and
The Warm Up
then his other tape
Friday Night Lights
exposed him to more fans and there was more buzz for his debut studio. Jay-Z finally allowed him to release
Cole World
which was nice but didn't exactly set the world on fire. It was cool but still left your ears hungry after listening to it. He did nothing to reinvent the wheel and his main problem is lack of topics. I never realized it but the homie Big Ghost brought up a great point in saying that he has made the same song about his come up and how hard it's been for him that he gets repetitive and boring. Although it's true to a point i still fuck with Jermaine because i do see the talent he possesses plus i really like his first two projects. Like Heyward, J. Cole has other other tools people don't realize which is being a producer. His most notable joint he made was
Highpower
for Kendrick Lamar and there have been talks of the two doing a collaboration album which i am sure Cole would handle most of the productions. On all his projects he produced the majority of tracks and when i say majority i'm talking like 85-90% of the motherfuckers so respect there because as you guys know i've always said i hold people that can spit and make beats WELL (i.e not Soulja Boy) in a little higher regard than other artists. Well his album
Born Sinner
is due later in the year and got 2013 off to a good start with his ep
Truly Yours
which i haven't checked yet but has gotten mostly positive reviews. Hopefully Heyward and J. Cole can bottle up their potential because they have a chance to do some major damage in their fields.
Josh Hamilton/2Chainz
totally hetero
Josh Hamilton and the artist formerly known as Tity Boi finally reached staying power very late in their careers. Hamilton was a prodigy coming out of high school, getting drafted 1st overall in 1999 but as we all know had his career put on hold due to drug problems. He re-emerged in 2007 with Cincinnati and who knows the kind of numbers he would have put up if he didn't fall victim to vices. But we saw how natural of an athlete he was because the next year he was traded to the Rangers and set the baseball world on fire. He was the star of All Star weekend at Yankee Stadium and was the driving force behind the Rangers's run back to relevancy. Hamilton finally reached the pinnacle individually by winning the 2010 American League MVP which payed dividends later when he became a free agent at the end of 2012 and proceeded to sign a $125 million contract. Although his public image has taken some hits recently the fact that he was able to pick himself up from the grips of addiction to put the natural talent he has to work is remarkable. 2chainz on the other hand didn't have the same personal demons Hamilton had but he was finally able to reach the top of the rap charts at the age of 35 after grinding so long. Mr. Chainz was actually good at
basketball
which allowed him to attend Alabama State University on scholarship at which he graduated at the top of his class although i'm not sure because i don't remember where i heard that but if it's true big respect. Somewhere along the way Mr. Chainz knew he wasn't going to the NBA so he started dealing drugs and rapping, you know...typical hood shit. But anyways he first got major notoriety as one half of Playaz Circle and their hit Duffle Bag Boy with Lil Wayne. He slid right back into irrelevancy as a solo artist known as Tity Boi and it was a real wonder why he couldn't break through with a name like that. Idk if he had a spiritual conversion or something but he changed his name to 2Chainz and released the T.R.U. Religion mixtape which really got his name buzzing. I never bothered to check out his Tity Boi stuff so i couldn't tell you if he changed his subject matter or the reason as to why he got popular but he did and suddenly was jumping on every hot track out there. He parlayed that success into anticipation for his debut
Based On A T.R.U. Story
which did well numbers wise. Mr Chainz did well for himself and is a personification of the phrase Better Late Than Never. Here we saw two guys reach the top later than most but grinded it out and that paid off for them at the end.
Mike Trout/Get Rich or Die Tryin 50 Cent
I didn't wanna use Kendrick as Mike Trout's comparison because i used him in the NBA/Rappers list so the last rapper i could think of to make the kind of impact Trout made was when 50 Cent first burst onto the scene with his Shady/Aftermath debut
Get Rich or Die Tryin.
50 paid his dues in the mixtape game, the minor leagues if you will, and when he got his chance to show what he could do to America he knocked it out of the park. Hits like
In Da Club
,
21 Questions
,
Wanksta
,
If I Can't
,
Many Men
, and
Patiently Waiting
showed us Curtis Jackson's versatility in the booth. Although he wasn't the greatest rapper he was to the point, had good storytelling abilities, and made great/catchy hooks that didn't leave a bitch scent, and he made it cool again for thugs to sing their hooks again. Yeah it helps having Dr. Dre and Eminem as your mentors but they can only do so much and 50 was able to take his knowledge and turn himself into a businessman getting himself a Vitamin Water deal, a movie, a video game, and a clothing line. Some boss shit for a newbie to the industry. Mike Trout came along in 2012 and like 50 a decade before proceeded to take his profession by storm. Trout burst onto the scene as the number 1 Minor League baseball player and did not disappoint. He was the unanimous winner for Rookie of the Year and it took Miguel Cabrera winning the first triple crown in nearly 50 years to deservedly win the award over the boy wonder. Trout rivaled 50s versatility by showing he can hit for power, average, fly around the bases, and make spectacular plays in the outfield. And like 50, Trout benefits from playing on a stacked team but then again as the leadoff hitter, Trout is the one to make the offense go. We'll see how he progresses as his career goes on but if he could follow 50's professional handlings and translate it to baseball he will do just fine for himself.
Scott Rolen/Pusha-T
Aye this one is probably the most questionable seeing as how different the two are with Pusha being a coke dealer and I'm not sure Scott Rolen has ever seen cocaine but let me explain. Both these guys have been mad underrated for the longest time but if you bring their name up who is going to say anything bad about them. Scott Rolen was the best defensive 3rd baseman of his generation and if Pusha was not the best coke rapper of his, you better say his brother No Malice. Rolen came up with Philadelphia and won Rookie of the Year with them and in the process became a fan favorite. Eventually he was traded to St. Louis which is where he enjoyed the prime of his career to make up 1/3 of one of the great offensive trios in the last decade with Albert Pujols and Jim Edmonds. Rolen's play at the plate and at the hot corner was a key factor in getting St. Louis a ring in 06 but after that slid into irrelevancy after getting traded to Toronto. After getting traded to Cincinnati, Rolen became a factor again helping leading the Reds to division titles in 2010 and 2012 while collecting yet another gold glove. He isn't on a team this year and his career is probably over. Pusha-T on the other hand looks to be having a career revival which all i can say is about time. He came up with his brother, then known as Malice, to form Clipse and with production from the Neptunes they were able to put out two great albums in
Lord Willin
and
Hell Hath No Fury.
Standouts from the album you may remember are
Grindin
and
Mr. Me Too
. Well, label problems got in the way of Clipse being able to put together the kind of music they would have liked and eventually split. Pusha ended up signing to GOOD Music and has been featured on the label's
projects
and has two mixtapes to show for his work,
Fear of God
and
Wrath of Cain
. His album is due out later this year and hopefully, but most likely not, Pusha can get the recognition he most assuredly deserves. YHHUUCCCK
Lil Wayne/Josh Beckett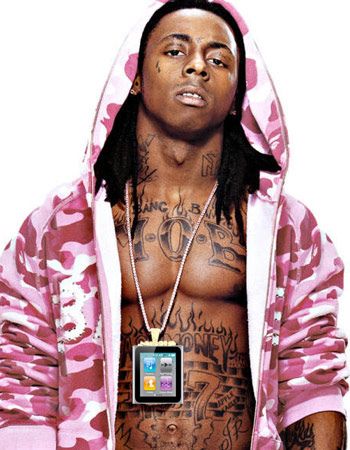 Man look how far these guys fell. It was about 5 years ago that these two were on top of the baseball and rap world. Weezy was in his Best Rapper Alive mode while Beckett just came off of his second world series title and had a dominant postseason which he was named the ALCS MVP. Everything Wayne touched was turning into gold. Every feature he jumped on, every beat he decided to freestyle on, it seemed like he could do no wrong. He dropped The Carter 3 to critical acclaim and this was after his run of mixtapes to solidify his status as the best rapper alive. Then after The Carter 3, Weezy took not giving a fuck to hall of fame proportions. He dropped the worst rock album in history, dropped subpar albums in The Carter 4 and the two
I Am Not A Human Beings, and took a shit on our ears with Dedication 4. He is currently running the most clownish label in the game right now with YMCMB and is spending more time skating and promoting his Trukfit clothing which looks like it will be sold at JC Pennys or Kohls. Dam the mighty have fallen. But he isn't alone. Josh Beckett was hyped coming up, like Wayne, through the Florida Marlins farm system but his problem was staying healthy. However when he was healthy he pitched with the best of them. At the age of 23 he walked in to Yankee Stadium and shut out the Yankees to win the Marlins a World Series and himself a World Series MVP. Beckett then was traded to the Red Sox where his injury concerns continued but still did well while healthy. However in 2011 he started to take a Lil Wayne like approach in not giving a shit. He was the ringleader of the beer and chicken scandal (which i am not sure why that is a big deal) and decided to play a round of golf on a day he was told not to pitch a game he had a lat muscle injury. But he is still getting paid, like Wayne, with the Dodgers and I'm looking forward to him getting fatter, douchier, and missing half his starts. Wayne and Beckett really don't give a fuck anymore but they still get their checks so jokes on us.
There you go with that. It will be interesting to see if these comparisons still will hold true by the end of the year so maybe i gotta revisit it but in the meantime let me know if you liked it, hated it, or suggest better comparisons. peace
The White Stripes- Black Math
Pusha T- Trust You feat Kevin Gates