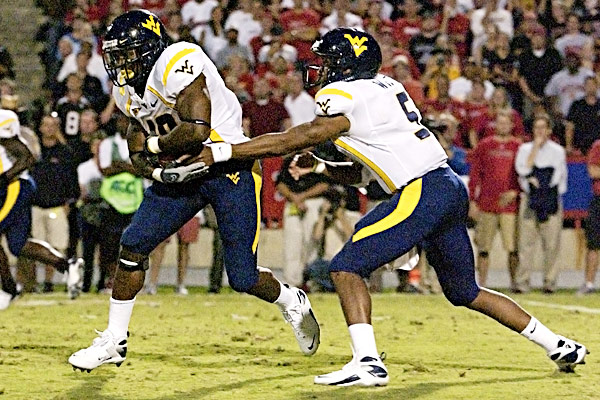 The guys that led the read option revolution
The Read Option/Pistol phenomenon took over the NFL this past year and is considered to be the new trick for offenses to stay ahead of defenses. It's not. It will never be a staple of an NFL offense. Look at the poster boys for this craze:
Robert Griffin III
of the Redskins,
Carlton Banks
of the Seattle Seahawks, and
Colin Kaepernick
of the 49ers. What is the thing they all have in common? They are superb quarterbacks with dominant rushing attacks. Now i'm not saying the pistol cannot be an ingredient of an offense, i am saying the read option cannot be the foundation. This is not the Pac 12 where Oregon's zone read can outflank the Benny Hills of the conference. We're talking about the NFL where grown men that weigh 250 pounds can run 40 yards in 4.5 seconds and deflect bullets off their chest (Patrick Willis). It is the home of brilliant coaches who have seen it all and commit a mind numbing of hours during each week looking at film for the slightest weakness in their opponent to exploit. The read option cannot be a staple. Don't get it twisted, i'm not saying it cannot be a part of the offense as a change of pace but if you're a team reliant on it you either don't care about your quarterback or are blinded by the flash. Look at Tim Tebow in Denver. 1, John Fox changed his whole offensive scheme mid season for him because he couldn't execute a pro-style offense, which for those who don't know is an offense based on basic formations but with variation from team to team. 2, you need a passing attack to win and you can't go too far when you're quarterback is throwing 2 for 6 in a game. And don't give me the "they won the division and then beat the steelers in a playoff game" bullshit. They won the division at 8-8 only because the Raiders of all teams who only have been relevant because of how much they have sucked the last decade couldn't beat the biggest choke team of the last decade, the San Diego Chargers, in a Week 17 home game. Then they play the Steelers who have one of the most brilliant defensive minds in football history with Dick Lebeau treating the Denver offense like it's freshmen high school football and playing 10 guys in the box meaning a missed tackle on a slant route led to the game winning touchdown. Look what happened when they played a real team the next week. Yeah the read option offense isn't too successful when you're down 5 touchdowns and the quarterback is getting blasted every play. That was only done out of necessity because my filipino brother Tim can't throw the football to save his life. Just put the ego away and change positions dude. You'll get more respect anyway.
I think you guy get the point that in order for the Read Option to be a successful component for an NFL offense the quarterback has to be able to be a passer first. Without the threat of the pass teams can load the box and stuff any run no matter what. That why guys like Pat White, Mike Vick (to a lesser degree), Tavaris Jackson, Matt Moore, Tim Tebow, and Armanti Edwards weren't cut out to be NFL quarterbacks. So if you're a fan of the read option and you want your team to implement it beware of what you wish for. For every Colin Kaepernick there is a Jake Locker.
Sade- Smooth Operator
One of the greatest songs ever made
MF Doom- Who You Think I Am?
Legend. Your favorite rapper's rapper.